In a sealed visitor sign-in system, Invisilog provides a visitor badge or visitor pass with a confidential register to protect your staff, guests and control access to sensitive company data. Quality printed not imprinted. Sealed not spiral bound.

Visitor management system includes:
custom ID badges printed with your company logo, colors and a non-disclosure visitor agreement
privacy page hides guest entries
log sheet is confidential until unsealed and filed separately by your security team or receptionist
black leatherette portfolio available
Adhesive and Badge Holder styles available.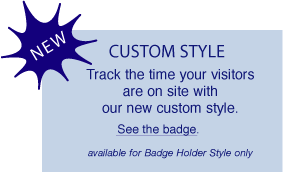 ---