How does Invisilog work?
The patented Invisilog solution transfers each guest entry to a visitor register that is confidential until unsealed by security staff. Adhesive style and badge holder style badges are printed ten badges per page with your logo and a non-disclosure agreement. Don't settle for spiral notebook visitor data management without Invisilog's sealed register.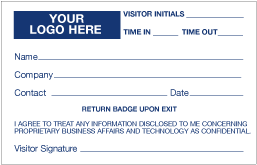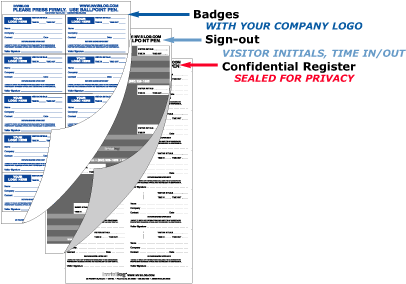 TIME IN/OUT DESIGN
CUSTOM BADGE HOLDER STYLE

What quantities are available?
Badge Holder Style
Standard Design 2,500, 5,000 or 10,000 badges
Custom Design 10,000 badges
Custom Time In/Out Design 10,000 badges
No Logo Standard Design 1,000 badges
Adhesive Style
Custom Design 10,000 badges
---
What size is each badge?
Badge holder style is 3 1/2" x 2 1/4" to fit standard plastic holders.

Adhesive badge is 3 1/4" x 2 "
---
Can time of visit be noted?
Yes, specify Custom Time In/Out Design (badge holder style only).

Visitor Initials_____ Time In_____ Time Out_____ appear on the badge, middle page and register.
---
Is a custom design available?
Yes, submit your draft for a custom badge. HIPAA, school, event, commercial and government applications
---
Is a special binder needed?
No, but they look great in the Invisilog black leatherette portfolio which holds 20 badges / 2 pages and cannot be peeled back like spiral notebooks.
---
How long is delivery time?
Production and delivery time are prompt after proof approval. Free proof!
---
Can I include our company logo?
Yes! Up to 4 PMS colors (spot color).
No 4/C process colors or CYMK colors.
---
contact invisilog
ask@invisilog.com
phone (650) 326-1929